Manchester City manager Pep Guardiola is regarded by a number of players, coaches, and commentators as one of the greatest and most successful young managers in football history but the Spaniard has had it tough with black players of the clubs he has managed so far in his career. Here is a list of 5 best black players Guardiola has kicked out while leading a team within his managerial career:
6. Yaya Toure – Barcelona and Manchester City
The Hate Story between Yaya Toure and Pep Guardiola began when the Spaniard was appointed a manager of the Spanish giants to replace Frank Rijkaard in 2008. Guardiola didn't take too much time to show Toure was not part of his plans by favouring Sergio Busquets in the defensive midfield role.
The four-time African Footballer of the Year then was sold to Manchester City where he put the Citizens back in the history books by helping them to win their first league title in 44 years.
"The manager didn't care about me until the offer from City came in," Yaya Toure said.
Now Guardiola and Yaya Toure are in Manchester City and the episode is repeating itself. The Ivorian star has not played a single competitive game for Pep Guardiola's Manchester City side so far this season, and he was left out of Champions League squad. Everyone is asking why he can't get into City team. This is too much!
5. Ronaldinho – Barcelona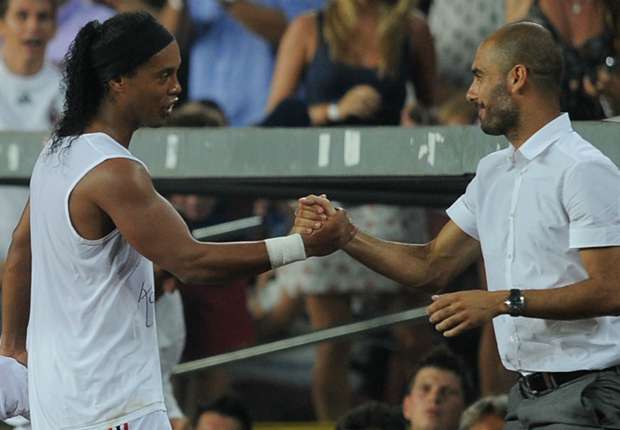 The charismatic Brazilian won FIFA  World Player of the Year in 2004 and 2005, playing a pivotal role for the Catalans in their Champions League winning season.
Upon being appointed, Guardiola revealed that Ronaldinho, Deco, Samuel Eto'o and others were not part of his plans for the coming season. Dinho moved to AC Milan on a three-year contract thought to be worth around £5.1 million (€6.5 million) a year in 2008.
Pep Guardiola might as well be one of the best managers in the game. But selling Ronaldinho, who is regarded to be one of the best players of his generation, was an unbearable mistake.
4. Dante – Bayern Munichen
Another Black Brazilian who fell out with Pep Guardiola, Dante moved to Allianz Arena for an estimated fee around €4.7 million, his combination with Jérôme Boateng in the centre of defence was hailed by many people.
"Dante is one of the best defenders I've ever played with." Bayern captain Phillip Lahm
With Dante at the heart the defence, Bayern broke records for fewest goals conceded and most clean sheets in a Bundesliga season during their treble-winning campaign.
But the retirement of Jupp Heynckes and arrival of Pep Guardiola have marked the end of Dante's career at Bayern Munich.
He fell down the pecking order and Guardiola was forced to sign Mehdi Benatia. The Brazilian defender was sold to VfL Wolfsburg for an undisclosed fee.
"He[Pep] doesn't speak to you so as a player you don't know where you stand," Dante told German newspaper Bild.
"There are coaches who are world-class from a tactical point of view, but who aren't good on a human level and this is the case with Guardiola."
SEE MORE NEXT PAGE…