Like father, like son! It's natural for sons to admire their fathers, but when your dad is a professional footballer, a kid really has something to aspire to.
Some sons hung around while their fathers played professional football, but some followed their father's steps into their football careers.
Just because the old man has great skill, it doesn't necessarily mean the son will, but sometimes junior goes on to eclipse big daddy.
Now, let's take a look at top 10 players who successfully their father's steps in football.
1.Paolo Maldini (retired) – Defender 
Maldini is an Italian former professional footballer who played as a left back and central defender for A.C. Milan and the Italy national team. He spent all 25 seasons of his career in the Serie A with Milan, before retiring at the age of 41 in 2009.
"I always found it very difficult when I came up against Paolo Maldini. He was the best defender I faced," Ronaldo.
Father: Cesare Maldini – Defender
Clubs played for Italy, Triestina, AC Milan&Torino
2. Jordi Cruyff (retired) – Attacking midfielder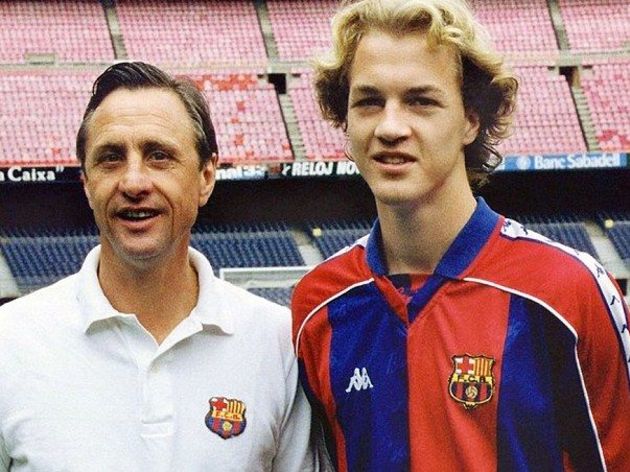 Father: Johan Cruyff – Forward
Clubs played for Netherlands, Ajax, Barcelona, Feyenoord,…
3. André, Ibrahim & Jordan Ayew (West Ham, Europa FC&Aston Villa)
Father: Abedi Ayew 'Pele' – Midfielder
Clubs played for Ghana, Marseille, Lyon, Torino,…
4. Frank Lampard (New York City FC) – Midfielder
Father: Frank Lampard Senior – Defender
Clubs played for England, West Ham & Southend United
5. Pepe Reina – Goalkeeper (Napoli)
Father: Miguel Reina Santos – Goalkeeper
Clubs played for: Cordoba, Barcelona&Atletico Madrid
6. Charlie Sheringham (AFC Wimbledon) – Forward
Father: Teddy Sheringham – Forward
Clubs played for: England, Nottingham Forest, Tottenham Hotspur, Manchester United,…